I had the honour of being the 'Lead Judge' for the Queensland 'MPA Excellence Awards' in 2021. As well as the Brisbane area, it took me to many places further afield like, Townsville, Hervey Bay, Toowoomba and the Gold and Sunshine Coasts. All up I inspected 93 residential and commercial properties ranging in painting contracts worth from as low as $10,000 to over $1,000,000. The pleasure I personally had as a Judge was not only getting to see some spectacular properties but to see work produced by some of the best painters in Queensland. Now I know as painters, we all think we're the best, which is exactly what I thought of myself and my team, but after looking at other painter's work, many of them put me to shame.
The scoring was marked out of 100 and being a first time 'Painting Judge', I wasn't going to be easy on anyone but still, 39 of the entries received a score of over 95 from me.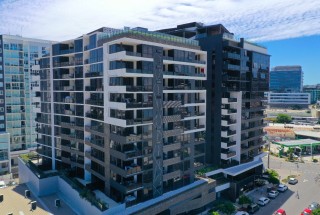 After all counting was completed, the top score was achieved by 'Imperial Coatings' who entered 16 projects in the specific categories under 'Commercial Projects', 'Heritage Restoration' and 'Special' and 'Decorative Projects'. With two perfect scores of 100, it gave them an average of 93.4% (there was only one that received a higher average of 93.7%, but they had only entered in 7 projects).
At an elaborate ceremony held by the 'MPA' in October, 'Imperial Coatings' was duly presented with the highest accolade of 'Overall Winner' in the 'Queensland MPA Excellence Awards'. I felt this high achievement deserved a mention in the Painters E-News Edition, so I put forward a few questions to Enzo Esposito (owner) to explain how 'Imperial Coatings' first started.
When did you start your painting career and when was Imperial Coatings formed?
I have been in the painting industry for thirty-two years altogether. My time commenced with my father-in-law's then business, Sunstate Painting. I was a supervisor and thoroughly enjoyed the operational side of the industry. After 15 years, I left to pursue 'petrol station franchising'. After 6 years, I decided to sell up the stations, and went back to 'Sunstate Painting' to continue as a supervisor. Two years later I left once again to form 'Imperial Coatings'.
What made you want to start up in business?

I have always been a self-starter and quite motivated to do better and more. I wanted to do things differently and start a company doing my very best to make it successful, (which I still have more ambitions about). I was extremely lucky to have many friends and family around me who supported me in this time, (namely my wife, who still works as a part of our accounts team). However, my decision to start was of my own accord-and-will, and I'm truly lucky to have so many around me today that were with me from the start.
What type of jobs did you start with?
Our first project was a 108-unit multi-residential project in West End. With a small onsite team, and an office team consisting of only myself, my wife and an estimator, it truly felt like David tackling Goliath at the beginning. However, being thrown in the deep end was an amazing lesson for me, and although a lot of stress was imposed, it meant that our company had the potential to grow and prosper, fast. Larger scaled projects with interworking trades and some of the largest building companies and developers was extremely fast paced, exciting and a little bit scary. But from here, we were able to forge relationships with other future clients in the industry and continue to grow our skills and ability.
Can you give me a ratio of projects you do; builders, residential, commercial, high-rise, etc?
Each project is just as important to us no matter how small or large. However, we have remained mostly in the commercial sector, servicing all levels of multi-residential and the sectors of industrial, aged-care, health and medical, heritage, education and large-format retail, with the smallest of our work being commercial fitouts, new homes maintenance and insurance. That being said, approximately half of our workload is multi-residential projects.
Where does your work come from?

Our business is based on retention. Repeating work for the developers and builders who trust our service and continue to work with us is how we operate. We are always looking to build on new relationships through providing quality workmanship in our service.
I see that Rope Access is very common now. Why is that?
In new multi-residential high-rise projects, we use rope access typically for areas where conventional scaffolding cannot be erected. As, most areas of a building can be accessed by rope. Builders and developers are always chasing scaffold down as soon as it has been put up, so to streamline, rope access is time and cost efficient. For multi-residential high-rise repaints, it is also far more cost and time efficient. In such cases, scaffold can also be very intrusive for existing tenants.
What does the Imperial Coatings staff structure consist of?
The onsite team is made up of over one-hundred painters, renderers, plasterers and carpenters. Our office team is comprised of our accounts, estimating, operations and marketing teams, a general manager and myself as managing director. From a managerial perspective on-site, we also have foremen, supervisors and an appointed operations manager who floats between the office and sites.

Do you find time for yourself or is it consumed by work?

I try my absolute best to find time for myself, and (more importantly) my family. This is done by ensuring that after 6:00pm, I am relaxing at home with my wife and kids.
How do you keep your office staff contented and productive?
My concern is making sure that everyone in the office manages their day well, to be busy and productive while being able to 'clock-off' on time and to be home for their own families. We have traditionalised our team lunches where we break together every day at noon. We sit at our kitchen table and either order takeaway or bring our own. On special occasions, we will go out for lunch. This small tradition ensures that we all have a break from our stressful day and to take a moment to have a chat and a laugh. This ensures that we take a break from the stress of the construction industry.
What is the future of Imperial Coatings?

My mentality has always been simple when approaching the development of my business; Constantly set goals, timeframes, and milestones. Since our beginning, Imperial Coatings has moved into more areas than painting (while painting will always be our primary service). Moving forward, our four trades of which we will be focussing on are painting, rendering, carpentry, as well as ceilings and partitions. We have chosen to pursue these particular areas to streamline our painting services. For example, by pursuing carpentry, rendering and ceilings and partitions, we can control the quality and speed of the timber, render and plaster for our painting finishes.
Thank you, Enzo, for taking the time out to answer these questions and all the best for the upcoming years ahead.
Jim Baker