Spray Painting
How to use a Conventional Spray-gun
Conventional spray systems are used to spray fine finishes. Learn how to set up and spray using a pot and compressor
HVLP Spray-Guns
HVLP Spray-guns are High Volume Low Pressure Spray-Guns. Learn how to set up, operate and shut down a HVLP
How to set up an airless spray-gun.
The airless spray system requires paint to be placed under pressure and forced out through a tip. The airless principle is like a garden hose. Pressurised water travers through the garden hose and through the restriction in the nozzle causing the water to atomise as it leaves the nozzle. To pressurise the paint airless systems use one of two pumps. These are either piston or diaphragm. The pumps need an energy/power source to run and this supply is usually electricity, compressed air or a liquid fuel (petrol,diesel).
Back-rolling and Airless Spraying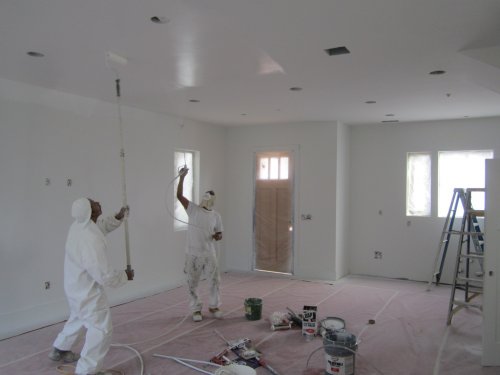 According to the AS/NZ Guide to Painting of Buildings;
"For airless spray application pressure is used to force paint through a fine orifice causing the paint to atomize into very fine droplets. No air is added to the paint. The method provides speed and the ability to atomize a wide variety of coatings and gives a smoother and more uniform coat compared with brushing and rolling. Overspray and paint bounce-back need management.

For broad-wall and ceiling areas, in critical light conditions, airless spray application should be back-rolled. Back rolling should occur whilst the paint film is still wet using a paint roller charged with paint then expelled. Do not commence back-rolling with a dry roller.

For plaster jointed substrates such as paper faced plaster boards or fibre cement sheet that are coated by spray application back rolling or sanding of the first seal coat is highly recommended and back rolling of the final top coat is recommended."
CPCCPD3024 Apply Paint by Spray Learning Resources