Apply Paint by Brush and Roller
To ensure an even distribution of paint, it is important that roller sleeves have a covering compatible with the type of paint selected and the surface of the substrate to be painted.
A number of types of covering are in general use, viz. lamb's wool, mohair, synthetic fibre and open-cell foam plastic. Each of these roller materials has special properties, some being more suited to particular types of paint, substrate conditions and resultant finish than others.
Short-nap rollers hold little paint and produce a fine stipple or low profile dimple appearance.
Medium-nap and long-nap rollers hold larger quantities of paint and are suitable for use on rough and very rough surfaces. They produce a high profile dimpled appearance on smooth surfaces.
Foam rollers are used to apply solvent-borne gloss paints and undercoats on smooth surfaces. They are not suitable for use on rough or very rough surfaces. This type of roller produces an orientation of fine lines in slight relief in the direction in which the roller is operated.
The roller should always be prepared for use by immersing it in water, or an appropriate solvent for a solvent-borne paint, agitating it while immersed and then spinning it dry.
These steps are necessary to remove dust and lint, which, if present, will mar the finish.
Areas of difficult access should be coated first. These are best coated with a cutting-in brush so that brush marks are hidden as far as practicable. The finish may be improved by stippling to reduce brush marks and produce a uniform surface profile. The roller should not be overloaded with paint.
Painting should be systematic and regular, with sufficient pressure (not excessive) first being exerted on the roller to transfer the paint from the roller to the surface. Rolling should then progress over the section of the area being painted and be finished with only light pressure in a direction parallel to that of the wet edge.
Where large areas are being painted, it is desirable to work into rather than away from 'wet' edges so that each new charge of paint is gradually spread out towards the wet edge and a comparatively empty roller used to make the 'join'.
Where walls are being painted, the final strokes should be in a vertical direction, but this is not imperative, provided that a regular method is adopted throughout the job. Paint should be rolled out in direction of the light.
The new AS/NZS 2311:2017 Guide to the Painting of Buildings now specifies which paint rollers should be used for various surfaces. Are you following the standard?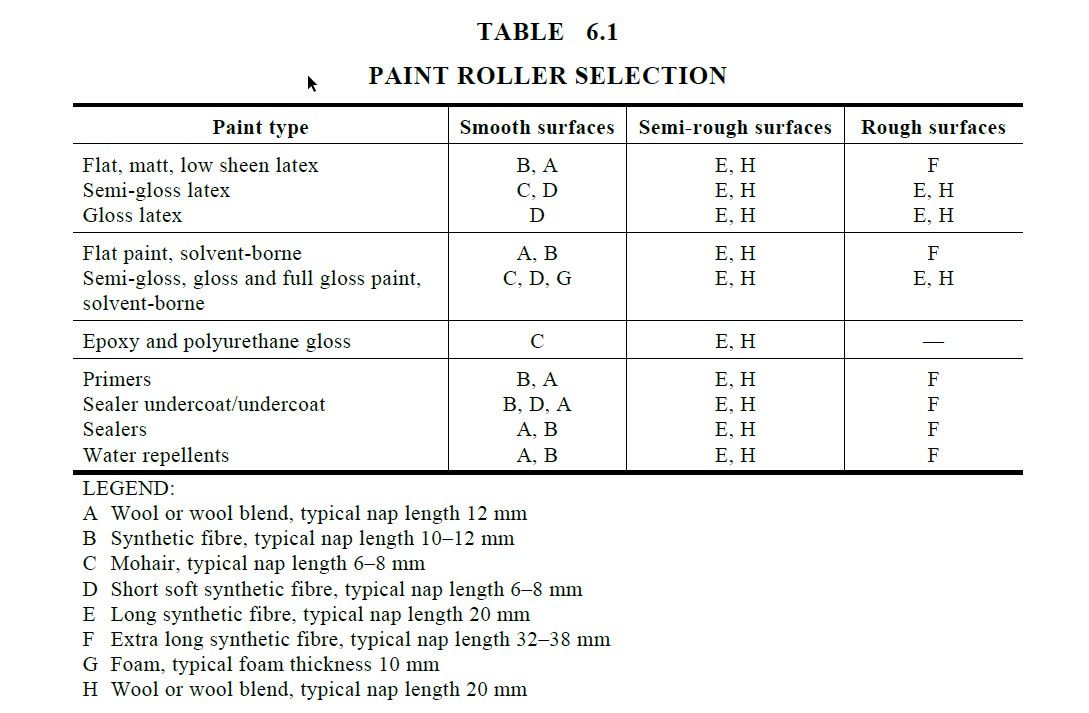 CPCCPD3022 Apply Paint by Brush and Roller learning and assessment resources
For more compliant, industry validated learning and assessment resources, including learner guides, trainer guides, RPL tools and assessment, please
contact us