Welcome to the 2020s! It's time to reflect on how the economy, government policy, environmental issues, new technology and trends will affect our industry. Although none of us has a crystal ball, (and crystal balls don't actually work, by the way), we can use current trends and policies to predict the major impacts on our industry. It's something smart business people do all the time, and its what makes us leaders in the industry.
In 2007 when I first started talking to painters about VOCs in paint, most painters thought I was some kind of tree-hugging hippy. But only ten years later Low-VOC paints dominate the industry, and they are specified on most large projects. When I spoke to painters about saving water in 2007, a lot of painters thought that I was exaggerating the need to become sustainable. But fast-forward to 2019 and large parts of Australia have been under severe drought for several years and most painters have used waste-water recycling units. In 2013 when the National Painting and Decorating Institute launched e-learning for the painting industry, the MPAV published a press release saying that e-learning could never be used for training painters. By 2019, almost 80% of all apprentices in Queensland are studying on-line using our e-learning system, over 1500 painters across Australia and New Zealand have enroled in an on-line course, and TAFEs across the country are rolling out e-learning for apprentices.
So, what does the next decade hold?
Climate Change and Bushfires
In case you are still wondering, climate change is not only real, its impacting us right now. Last year 11,000 of the world's scientists signed a declaration warning that the world's governments must act urgently on climate change to avoid catastrophic environmental and economic collapse. All leading economists are warning that action must be taken, and business leaders are pushing the government to take meaningful action. The recent devastating bushfires through eastern Australia are not a hoax, they were very real, and unprecedented. Fire chiefs across Australia have publicly said that these were directly caused by climate change.
How will this impact our industry?
One way is through increased demand for intumescent coatings, or 'bush-fire resistant coatings'. After the devastating 2009 fires in Victoria the government introduced new regulations for houses and buildings in bush-fire risk zones. These regulations mean that new buildings built in those zones must meet new Bushfire Residential Building Standards. One method that building designers can use to improve a building's resistance to bush-fires is to use intumescent coatings on exposed doors and walls. There will no doubt be increased use and awareness of these coatings as state governments scramble to create new regulations to help residents cope with increased bush-fire risk from climate change.
If you haven't already, we recommend you complete the Intumescent Coatings Course with the National Painting and Decorating Institute, to prepare your business for this growing market.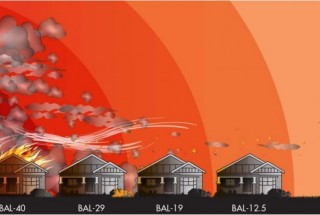 Climate change will also affect drying times for paint. There is already an increase in the number of extremely hot and dry days in many parts of Australia, and this will continue to increase. Manufacturers may change formulations, but contractors will need to plan their projects to cope with changing climatic conditions.
Employers will also need to ensure their employees are prepared for extreme climate conditions. Managing the work health and safety (WHS) risks from air pollution (for example, bushfire smoke) at the workplace is a duty for all persons conducting a business or undertaking (PCBUs). Safe Work Australia has published practical guidance for PCBUs about how to meet that duty, including about how the hierarchy of control measures can be applied to manage risks from air pollution.
Energy Efficiency and Buildings
Energy efficiency is a core focus of the Australian Building Codes Board and forms part of the Australian, state and territory governments' strategies to improve energy productivity and reduce greenhouse gas emissions.
After focussing on commercial building energy efficiency in NCC 2019, the emphasis of the NCC 2022 energy efficiency work will be on residential buildings. This will involve the development of enhanced energy efficiency provisions for residential buildings, including a possible increase in the level of thermal comfort and a whole-of-house-energy use budget. For commercial buildings, initial investigations will be carried out to support possible future changes in NCC 2025.
Schemes are alraedy in place to retro-fit existing buildings to improve energy efficiency. Products such as heat-reflective coatings are becoming widely used to cut air-conditioning use. The use of these products will continue to rise.
In addition, there will be increased focus on air-tightness of buildings. For painters this means we will be increasingly held responsible if we fail to replace door and window seals after painting.
Electric Utes and Commercial Vehicles
Almost all vehicle manufacturers have launched or will be launching electric versions of their most popular models. Electric vehicles will become mainstream, and the cost will drop dramatically. Chances are, when you visit a showroom in 2022 you will see battery powered versions of your favorite models, and by 2030 lots of your mates will be driving them.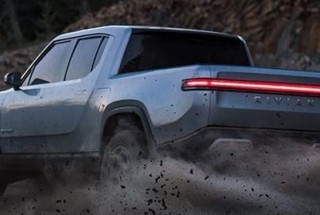 General Motors' first electric pickup truck model will go on sale in the US in the autumn of 2021, the company's top executive said this month, around the same time as electric carmaker Tesla's own model is expected to debut, with a starting price under US$50,000. The electric Ford F-150 will possibly debut in 2021.
The first electric ute in Australia could come from China, with Great Wall confirming the pure-electric version of its new ute was "always" in its plans. Timing hasn't been confirmed, but Haval Australia's managing director Koma Li says Great Wall will take the as-yet unnamed electric pickup despite of our market's reticence to adopt battery-powered vehicles.
Nissan has already released a new all-electric commercial van in the U.K., and will no doubt be releasing this model for city based tradies in Australia too. Check it out
Although a lot of painters have scoffed at the idea, just wait until they actually try one of these vehicles. Electric utes have better acceleration, higher torque, the same payloads, 4X4 capability, extremely low maintenance costs (imagine, no more oil changes or fuel filter changes), and the best part; they will cost 75% less to fuel, and if you have a solar PV system it will cost you virtually nothing to run.
In 2019, Australian manufacturer ACE EV launched a unique range of electric cars and light commercial vehicles; ACE Cargo, ACE Yewt and ACE Urban. The world is shifting to electric vehicles. Internationally, governments are supporting uptake with measures such as Electric Vehicle targets, bans on internal combustion sales, road access restrictions (congestion / low-emission zones), purchasing grants and registration / tax discounts. People want them, most governments want them and businesses want them. The shift is undeniable and accelerating rapidly.
Registration for Victorian Painters
After decades of lobbying the government, industry associations have finally achieved the goal of bringing in mandatory registration of most building trades, including painting and decorating. Registration of painters in Victoria is proposed to kick off in 2022, with painters being given one year to apply and register, followed by a 5 year probationary period before full registration by 2028.
Although the details have yet to released, we expect that registration will be limited to qualified painters, just as it is now for other trades. Thousands of painters in Victoria will need to be assessed, and training provided for them to become qualified and licensed. This is a tremendous opportunity to improve the professionalism of the industry.
States with licensing or registration schemes have increased apprenticeship uptakes, and generally a higher standard of workmanship. Not only will registration provide a level playing field, it will provide a minimum benchmark for contractors to meet, resulting in a better outcome for the public and less disputes with contractors.
If you are a cowboy operator in Victoria, your time is up!
Pre-fabricated Buildings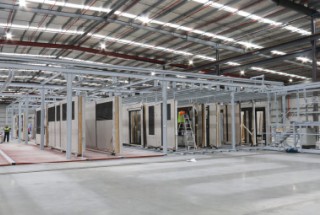 Within the next 10 years the move to modular and pre-fabricated construction will result in 10% of all new Australian homes being built and assembled off-site. How will this affect the painting industry?
A large percentage of the painting industry will become part of a home manufacturing industry, instead of the building industry. This is a fundamental shift in the way we build. After speaking to several manufacturers, it seems that many components are now being factory finished, instead of painted in situ. For example, standard doors and windows are being sprayed in virtual 'factories' and then simply installed in standardised modules. Even walls are being factory finished by spray. Read more
Improvements in Training and Apprenticeships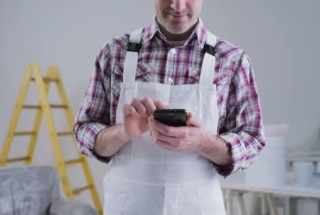 Above: Thousands of painters across Australia and New Zealand are learning on-line with the NIPD e-learning system
The national qualification for painters and decorators has been reviewed and is getting a major update. The new qualification is expected to go live in March 2020, and RTOs and TAFE will have 12 months to transition to the new qualification.
On behalf of the Construction, Plumbing and Services IRC, Artibus Innovation has reviewed and developed the CPC30619 Certificate III in Painting and Decorating qualification and 19 units of competency. A technical advisory group has met frequently to discuss the update of the qualification and has provided key input into the development of the units of competency and assessment requirements and has considered the feedback received.This review has been guided by a Technical Advisory Group (TAG) and has received feedback and contributions from industry practioners and teaching networks as well as State Training Authorities.
This important work happens about once every 12 years and it sets the curriculum for apprentices for the next decade. Certificate III Painting and Decorating is the nationally recognised qualification for painters and required for licensing in SA, NSW, and QLD, and can be used for registration in WA and Victoria. It is the certificate issued to apprentices on completion of training.
New draft changes include:
Two new core units have been developed:
CPCCPD3035 Prepare uncoated surfaces for painting
CPCCPD3036 Work safely to encapsulate non-friable asbestos in the painting industry
A new elective unit has been added MSFID4016 Design colour schemes for interior and exterior spaces
Protective Coatings will be a core compulsory subject. All apprentices to recieve training in mixing two-pack epoxies, working to specifications, quality control, preparation of metal and concrete.
The number of core units to now be increased to 26, with only 3 elective units.
The unit on basic wallpapering now requires all students to learn how to wallpaper ceilings
Detailed specifications on minimum sizes and amounts for trainers to use during assessment.
The unit on calculating construction work is now a level 3 unit, requiring higher level skills in estimating. (essentially becoming a third year subject)
TAFE in NSW will be introducing e-learning for apprentices next year, as will several TAFEs in Victoria. The rise of e-learning has eliminated a lot of unecessary paperwork, and connected trainers with employers and apprentices in regional areas. Over 1500 painters are currently enroled or have completed on-line courses with the National Painting and Decorating Institute and our partner colleges, including Master Painters Queensland. This trend will continue to rise as employers realise the benefits of higher quality consistent education, and flexible on-site training.
Robotics and Technology
One of Disney's latest projects is PaintCopter -- a drone that can autonomously spray paint both flat and 3D surfaces. Disney Research says the goal is to be able to paint large surfaces without the need for scaffolding and ladders.
The process consists of three steps. First, the target surface is scanned and an accurate 3D map is generated. Then a designer lays out what needs to be painted -- whether that be a filled in area or a line drawing -- onto the 3D model, and generates the necessary robotic painting commands. And once that's done, PaintCopter, a modified DJI Matrice 100, can get to work. Watch a video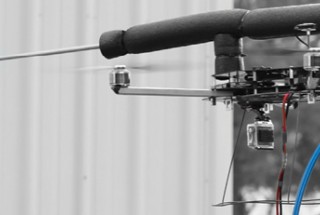 How will you react to new technology and ideas? How you choose to react may determine the success of your business. Some people react negatively and are scared to try new ways of doing things. But in my experience, those who think ahead and adopt new technology and ideas are better prepared for when the technology inevitably becomes standard practice.
Author: Daniel Wurm is a qualified painter and decorator with 26 years in the industry, and 11 years experience training. He is the Managing Director of the National Painting and Decorating Institute.